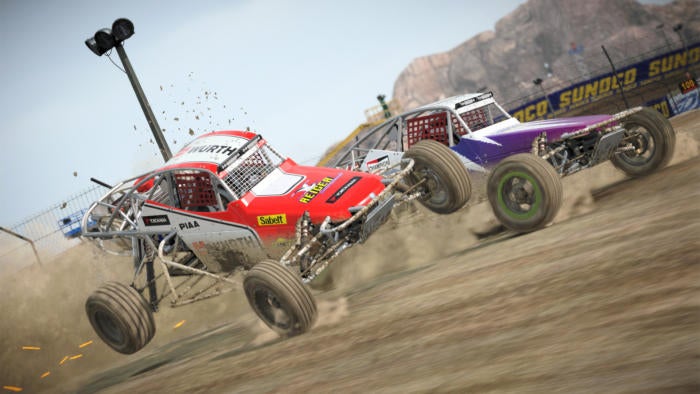 I hope you like videos, because we have about a million of them this week. Launch trailers, announcement vids, Planet Coaster rides, the works.
This week: A Dirt 4 teaser, Bossa's new skateboarding turf war, Square Enix teaming up with Marvel, Ni No Kuni II on PC, the Pillars of Eternity documentary, the end of Star Wars recreated as a roller coaster, and so much more.
This is your gaming news for the busiest week of January, a.k.a. January 23 to 27.
Tony Hawk: American Paintland
Bossa's Worlds Adrift isn't even released yet, but apparently the studio's been working on two games simultaneously. This week the Surgeon Simulator dev announced Decksplash, some sort of skateboarding game that involves painting an arena with sweet tricks. Literally.
I don't know. It's hard to explain. There's video though:
The long tail
There are two releases I'm excited about this week. The surprising part? Both are related to games that launched way back in ye olde 2015. Some of 2015's best games, actually. First up, Crypt of the Necrodancer, which released its Amplified DLC prequel into Early Access.
And then there's Cayne, a free (FREE!) prequel chapter to isometric horror game Stasis. I haven't gotten a chance to play Cayne yet and don't know how good it is, but Stasis itself was brilliant. Highly recommended.
Dirty
Another new announcement: Dirt 4, which is set to release a mere four months from now on June 6. Presumably 2015's Dirt Rally will live on as the sim-oriented half of the series and Dirt 4 will be more arcade-y—a bit of a Forza and Forza Horizon dynamic. We'll see! For now, there's just a short teaser.
Avenged
When's the last time there was a good Marvel game? Maybe one of the Lego titles? Point being: Marvel may have taken over Netflix and movie theaters, but its video games have been either bad or nonexistent since the PS2 era.
That might change, though. This week Square announced a partnership with Marvel, with both Crystal Dynamics and Eidos Montreal apparently working on an Avengers game. Let's hope it's as interesting and innovative as Spider-Man 2 was at the time.
A trailer for every star in the galaxy
BioWare's certainly making up for the fact we had no Mass Effect news for months and months and months. This week? Two trailers, one cinematic (below) and another focusing on the crew.
Quake!(Con)
When's the last time Quake was the focus of QuakeCon? Been a while, eh?
But with Bethesda announcing Quake Champions at E3 2016, it's safe to say it'll take center stage at this year's QuakeCon. If that piques your interest, Bethesda announced it'll return to Dallas from August 24 to 27. And hey, it's free so…
Pray for release
The star of QuakeCon 2016 will probably not make another appearance this year though, considering it releases on May 5. That's Prey of course, which nabbed an official release date.
Ni No Kuni on PC
The original Ni No Kuni and its painterly art style may be forever stuck on the PS3, but its sequel is making moves. Bandai Namco announced this week that Ni No Kuni II: Revenant Kingdom will be coming to the PC day-and-date with the PS4.
Lamentations of the players
Conan Exiles hits Early Access next week, and if you're curious what to expect then here's a trailer featuring a crucifixion, a burly man, and a sabertooth with a scorpion tail.
Thimbleweed Park
This post is reaching its trailer capacity, but I somehow missed a Thimbleweed Park trailer last week so I'm going to rectify that now because, well, the game looks great. This one centers on Ransome, the swear-filled clown.
Building Pillars
Pillars of Eternity II launched a Fig campaign just yesterday and it's already blown past its $1.1 million goal. Excellent. If you're curious what goes into game development though, you might be interested in watching The Road to Eternity, the documentary that chronicled development of the first Pillars of Eternity (originally for backers only). Set aside an hour and a half this weekend and watch.
That's no moon, it's a roller coaster
Planet Coaster's been out for a bit and we're starting to see some really impressive projects—like "Death Star Strike," a Star Wars-themed coaster replete with a Millenium Falcon, X-Wings, TIE Fighters, and the trench run from A New Hope. Created by Chuck Maurice and Co., the coaster apparently took over 100 hours of work and all I can say is "Wow." (Via Rock Paper Shotgun)
source"cnbc"