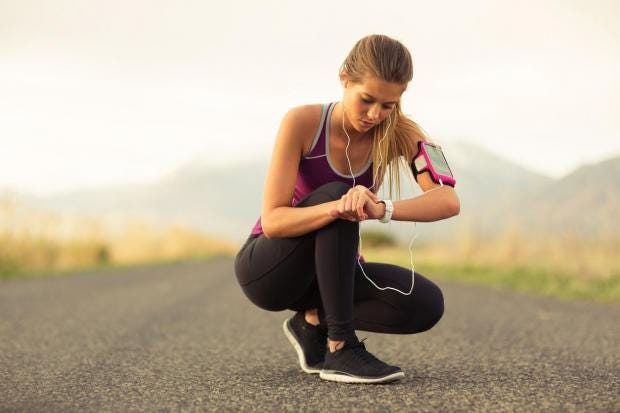 No more excuses
Many people think that getting fit means devoting your life to the gym and slogging it out for hours. And unsurprisingly, that can be pretty off-putting.
But increasingly we're realising that short workouts can be much more effective than long ones, if you just know what to do.
It turns out that just a minute's exercise a day can have a hugely beneficial impact on your health.
According to a study by the Universities of Exeter and Leicester, women who do 60-120 seconds of high-intensity weight-bearing exercise a day have four per cent better bone density than those who do less than a minute.
Women who exercise for over two minutes have even stronger bones, with density six per cent higher than those who do under a minute.
After the age of 30, people tend to lose more bone mass than they gain, and the higher your bone density, the lower your likelihood of developing osteoporosis.
You're also less likely to have bone fractures in old age.
The study was conducted on over 2,500 female participants, and it's women who are most at risk of osteoporosis, with bone density declining significantly after the menopause.
According to the International Osteoporosis Foundation, a tenth of women aged 60 are affected by osteoporosis, and this rises to two-thirds of women aged 90.
What's more, one in three women over the age of 50 and one in five men of the same age will suffer from osteoporotic fractures.
Six healthy breakfast recipes – in pictures
But further research needs to be done to work out how best one should undertake exercise in order to improve bone density the most.
"We don't yet know whether it's better to accumulate this small amount of exercise in bits throughout each day or all at once, and also whether a slightly longer bout of exercise on one or two days per week is just as good as one to two minutes a day," said lead author Dr Victoria Stiles.
"But there's a clear link between this kind of high-intensity, weight-bearing exercise and better bone health in women."
To reach their conclusions, the researchers asked their participants to wear activity monitors for a week and then compared this data to measurements of their bone health.
The activity data was broken down into single seconds to understand how people move in their daily lives.
"We wanted to make every second count in our analysis, because short snippets of high-intensity activity are more beneficial to bone health than longer, continuous periods," Stiles said.
"We were careful not to ignore short bursts of activity throughout the day."
Many people, although not consciously exercising, engage in non-exercise activity thermogenesis – or NEAT – over the course of the day, and this can be enough to improve your health.
If you want to increase your bone health, start with simply trying to walk more, and from there you can incorporate short bouts of running too.
There are limitations to the study's findings though.
"Because this is a cross-sectional study – which assesses data taken from a subset of the population at a particular point in time – we can't be sure whether the high-intensity physical activity led to better bone health, or whether those with better bone health do more of this exercise," Stiles clarified.
"However, it seems likely that just one to two minutes of running a day is good for bone health."
It's not the first study to suggest you can drastically improve your health with just a minute's exercise either: earlier this year, researchers from McMaster University found that 60 seconds of intense exercise broken up into 20 second blasts as part of a ten-minute workout can be as effective as a 45 minute endurance workout.
No more telling yourself you just don't have the time to keep fit then.
["Source-independent"]