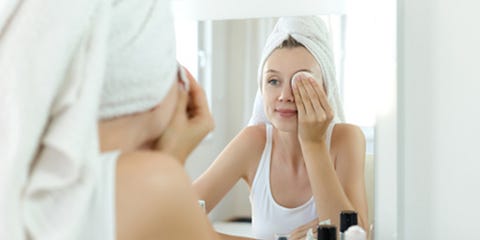 Tired of your makeup sliding off your face an hour after applying it, gone without a trace come lunch time?
Well, oily-skinned girls, look on the bright side: while everyone else is paying an arm and a leg for that 'just stepped off a plane from the Maldives' glow, you have been naturally gifted a Victoria's Secret Angel level radiance.
With a great routine, a few carefully chosen products and a big scoop of self-confidence, oily skin can actually be kind of great. Here are five surprising facts about oily skin that will help you embrace the skin you're in, shine and all.
1) Over-washing is just about the worst thing you can do
That squeaky clean feeling that comes from washing your face really thoroughly might be satisfying, but it's a definite no-no. Cleaning your skin with harsh, drying products can actually leave you greasier than a takeaway pizza.
'The key is balance,' explains Simple's skin expert, Katherine Frizoni.
'By using overly harsh washes too often we strip away the natural protective barrier, causing the skin to be immediately dry and the body to react by producing too much oil again. This creates a dry skin-oily skin cycle.'
Stick to gentle cleansers and limit your face washing to just twice a day to keep skin balanced and healthy. Try Simple's Daily Detox Purifying Face Wash or Daily Detox Charcoal Cleansing Stick. Inspired by Korean beauty, the innovative formula uses bamboo charcoal to absorb and remove excess oil without stripping skin's protective layer.
And of course it goes without saying that removing your make up each night is important. A micellar water makes light work of removing even the most stubborn of mascara – and can be used from the comfort of your bed. Result.
2) Except for maybe over-exfoliating
If you're plagued with acne or blackhead prone skin, you might be tempted to give your face a good scrub to banish those blemishes. In fact, this could be damaging the moisture barrier of your skin, as Doctor Adam Friedmann, consultant dermatologist at The Harley Street Dermatologist says:
'[Over-exfoliation] makes the skin more sensitive, thins down the keratin and risks eczema as a result of irritant processes.'
Instead of harsh scrubs, opt for a gentle physical exfoliator like Simple's Daily Detox Clear Pore Polish Face Scrub. Powered by a naturally effective blend of thyme, zinc and witch hazel, the scrub gently buffs away dead skin cells, preventing the build up of excess oil and dirt in your pores.
Gentle chemical exfoliators can also be a good option for spot-prone skin. Use a mild toner with glycolic acid (not as scary as it sounds, we promise) to accelerate skin renewal, exfoliate away dead skin and reveal a natural glow underneath. Bye bye acne, hello Gigi Hadid-esque radiance.
3) Don't forget to moisturise
While it might feel a little counter-productive, moisturising morning and night will actually help to keep your skin's oil production in check.
Be sure to stick to light, non-comedogenic formulas which preserve the skin's natural defence against spots and blemishes without clogging pores. If you're in a hurry, look for products to help streamline your routine, such as Simple's Daily Detox SOS Booster Gel which works as both a moisturiser and a primer while simultaneously zapping spots.
If your skin feels particularly dehydrated or if you've had one too many late nights, a sheet mask will deliver a surge of moisture without feeling heavy.
4) Your lifestyle can play a major role
While this probably isn't revolutionary news: diet and exercise can impact your skin. Spikes in the hormone insulin can cause skin to produce excess oil, so it is important to keep blood sugar levels balanced.
According to nutritional therapist Rebecca Bolton, there are a couple of easy lifestyle changes we can make to keep skin shine-free:
'Eating trans fats from processed foods can cause inflammation in the body and your skin to secrete excess oil. Try swapping these for anti-inflammatory healthy fats such as salmon, mackerel, walnuts and avocado.
'Stress can also cause oily skin; the hormone cortisol is released to help your body manage that stress, which can increase oil production in the skin,' she says.
Sounds like it's time to swap the burgers and late nights for clean eating and meditation. Sorry about that.
5) You could be slowing down the ageing process
Here's something to feel smug about: compared to your dry-skinned friends, oily girls could actually show the signs of ageing more slowly. Result.
As Friedmann explains, 'Dry skin won't cause wrinkles, but the dryness may bring emphasis to wrinkles, making them look more exaggerated.'
Frizoni agrees:
'Oily skin is better at holding in natural moisture than dry skin. It works like a natural lid for your skin. When skin cells are moisturised they are able to function much more effectively and produce the goodies our skin needs to stay healthy like collagen, elastin, natural moisturising factors and lipids.'
So next time you're complaining about finishing yet another packet of blotting papers, try to envisage that oil as nature's fountain of youth.
["source=cosmopolitan"]