Everyone knows exercise is important, but finding time to do it is nearly impossible, especially when you have kids. I can't tell you how many times I've set my alarm to get a workout in, only to have my child decide that was the day she needed to wake up an hour earlier than usual and demand breakfast, Peppa Pig, and couch snuggles instead of letting me be alone with my weights. It's so frustrating that I've now focused on family exercise ideas because, let's be honest, if mama can't pee alone, why should she expect an hour to work out?
The truth is, I'm not a super hardcore workout person. I like dance videos, aerobics, and going on long walks. Luckily, these things work for my life as a busy work-from-home mom. Suddenly, a 20-minute walk with my kid in the stroller becomes a great calorie-burning exercise, and chasing her in the backyard sends my FitBit into overdrive. It just works for all of us, and it means no expensive gym memberships, no carving out an hour alone every day, and it shows my kid good habits when her dad and I both join in on a workout.
So if you're in a similar boat, here are 11 ideas that can help you figure out the best family exercise plan for you and your little unit. Get as creative as you want — the best part of these ideas is that they don't even feel like exercise.
1

Invest In A Jogging Stroller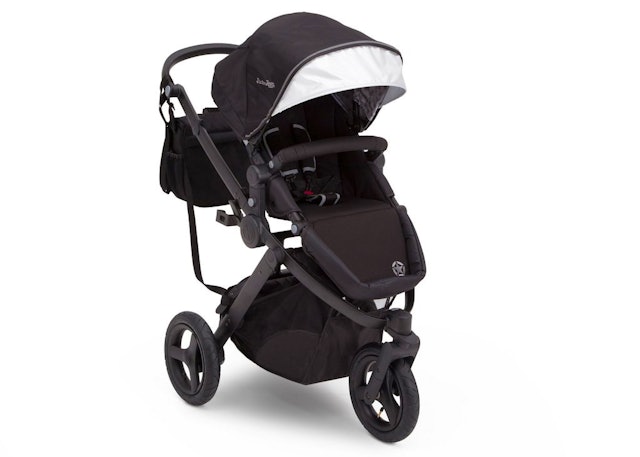 Jeep by Delta Children Sport Utility All-Terrain Jogger
$349
OK, any stroller will do when you're just wanting to get your steps in, but if you're going to be doing some hardcore walking, running, jogging, or trail hiking with your family, you need to invest in a jogging stroller. Trust me — it will make those walks even easier to get in when you know you're not going to be pushing an umbrella stroller up that steep hill in your neighborhood. My family and I love the Jeep by Delta Children Sport Utility All-Terrain Jogger. At just under $350, it's a great investment since it's really three strollers in one, can connect to most popular infant car seat brands, and works just as well on the trails as it does in your local neighborhood. Seriously, it will make your walks so much better when you know you have a worthy stroller.
2

Make The Perfect Playlist
You already know how rough it can be to kill it halfway through a workout and your playlist suddenly betrays you with a song that is just not your vibe at the moment. For your family to be stoked about exercising together, you need a perfect playlist that will keep everyone motivated and happy. Bonus points if it includes songs you can all sing together as you walk, run, dance, or just play in your yard.
3

Get Everyone A Bicycle
Exercise doesn't have to feel like exercise when the entire family has a bicycle they love. Make sure parents, kids, and even babies have a safe bike to ride on (or a scooter, or a tricycle, or a seat attached to your bike) along with helmets and hit the road. Parents noted that this is a great, healthy way to get your kids playing and biking something they'll never outgrow. It helps with coordination, strengthens your heart, lungs, and muscles, and has low impact on knees. It's basically a win for the whole fam.
4

Start A Garden

Another exercise idea that won't feel like exercise? Gardening. Whether you choose vegetables or a plot of your yard for flowers, kids will love digging in the dirt alongside you and using muscles without even realizing it. Women's Healthreported that in a South Korean study, gardening was found to be a moderate to high-intensity physical activity. Bonus points: your yard will look amazing.
5

Use Step Counters
When I got my FitBit, it immediately became a motivator for me. Not only does it remind me to get moving, but challenging my friends and family kept me super pumped to get my steps in. Whether you have a FitBit or just a regular step counter, you can make a friendly competition with your family members to see who can get the most exercise in.
6

Buy A Sprinkler

Have you ever seen kids with a sprinkler? They've never run or moved so fast in their life, I swear. Set up the sprinkler, put on your swim suits, and the whole family can work up a literal sweat splashing and jumping in the water. Again, exercise that doesn't even feel like exercise.
7

Start A Scavenger Hunt

Whether you do a nature-themed one or just hide things in the house, a scavenger hunt is a fun way to get the whole family up and moving. My kid loves when I give her a list of things to find — like pinecones, leaves, sticks — and send her off on an adventure in the backyard. Chances are, your kid will ask you for more things to find and you'll have them (and yourself) worn out in no time.
8

Pick A Team Sport

Baseball, basketball, hockey, football, volleyball, tennis — really, the possibilities are endless. Set up a game with the whole family and let the fun begin.
9

Create An Obstacle Course
Truthfully, if I would let her, my kid would happily jump from the arm of the couch to the ottoman to pillows on the floor to the armchair without missing a beat. Her favorite thing in the world lately is climbing over things, climbing on top of things, and jumping wherever her heart desires. It's a great way to get some exercise in though, so set up a safe obstacle course in your yard or house for you family to get their energy going. There are tons of great ideas, but I love that you can also do this idea simply by laying out sticks to jump over, bricks to jump off of, and even a playground in your own yard to use as part of the course.
10

Head To The Playground

When all else fails, just head to the playground. Running from the swings to the jungle gym will get everyone's heart rate going, and chasing your kids around the playground is a great way to get some exercise in without anyone realizing it. (Also, they'll be totally worn out on the way home and probably score a nap.)
11

Make It Part Of Your Daily Routine
No matter what type of family exercise you do, the best idea is to make it part of your daily routine. A morning or evening walk is consistent, but you can also make sure there's a daily dance party in the kitchen, a game of tag in the backyard, or a 20-minute baseball game to get everyone's muscles working. It's a sweet spot to find exercise that works for the whole family, so hold on tight and make sure it's a priority for everyone.