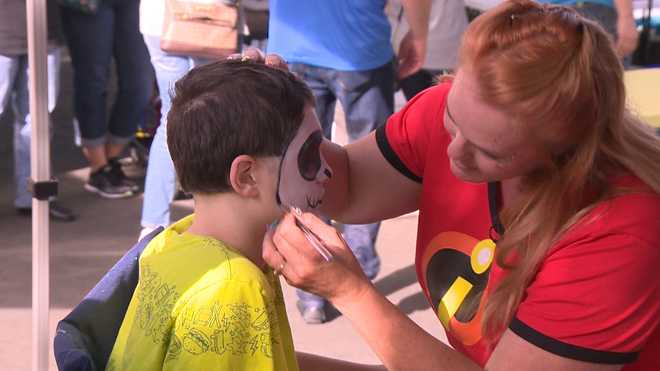 The annual superheroes event in Sacramento's Land Park gives children with cancer a night of fun, free from the worries and stresses of their medical condition.
Families got to relax Friday night with free rides at the Funderland Amusement Park, raffle prizes, pizza and root beer floats. Superheroes Captain America and Thor also showed up to lend their support.
"For one day, the families forget about what's going on and they just have a really good time," said Reed Baumgarten of Keaton's Child Cancer Alliance, which put on the event. "Today's a chance for families to forget about the challenges they have in their life because all of our families are dealing with a child battling cancer."
Travis Torres-O'Callaghan, 15, gets chemotherapy every week, but this Friday he got to skip it and come to the park.
"About a year ago, I found out that I had a brain tumor and I've had three surgeries since," Travis said.
His family got the news on Mother's Day last year.
"(Travis) got a really bad headache in the middle of the night, and we went to the emergency room because I could tell it was something different from a normal headache," Travis' mother Jennifer Torres- O'Callaghan said. "They found a mass on his brain."
Nathaniel Cerrano was diagnosed with leukemia last March at the age of five.
"This year, he's doing amazing," Nathaniel's mom Liz Cerrano said. "(The event) takes his mind off the day-to-day, just dealing with cancer and pills and all the stuff he has to deal with, so we're having a blast here. He's having so much fun."
Jennifer Branaugh has been involved with the Land Park event for the past 15 years.
Her daughter was diagnosed with cancer when she was young. Now, the entire family gives back. Her daughter and husband are balloon artists, and Branaugh is a face painter.
"The best part about this is when they look in the mirror and see their own face," Branaugh said.
As she held up the mirror for Travis to see his face with a skull design she completed, he smiled from ear to ear.
sourced:-.kcra.c