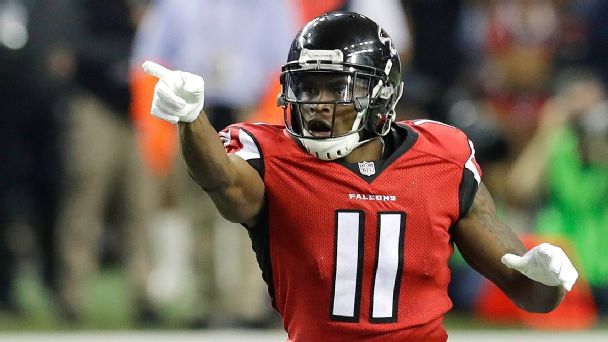 FLOWERY BRANCH, Ga. — Julio Jones' fuel used to come packaged as a cinnamon-swirled pastry loaded with sugar.
The Atlanta Falcons' All-Pro wide receiver often snacked on sweets as a rookie in 2011. Back then, he didn't pay much mind to what he consumed on a daily basis because he figured nothing could slow him down.
"Honey Buns, that was my go-to," Jones said. "I mean, when I first came into the league, I was a young kid eating everything."
How times have changed.
You won't catch Jones devouring a doughnut or candy bar these days. You won't see him out carving into a steak or biting into a cheeseburger, either. He has completely changed his diet, a process that started during his second year, thanks to the influence of a former teammate.
"Just hanging out with Tony Gonzalez here, he kind of helped me," Jones said of the future Hall of Fame tight end. "Tony stayed away from everything. He didn't eat meats, no beef, no pork, or things like that. I started incorporating that into my diet. I don't eat fried stuff. I don't eat red meats. And now with stuff like sugar, I don't crave it."
In his seventh season, Jones, 28, believes a stricter diet, plus nine or 10 hours of sleep per night, is the reason he's able to recover faster from the nagging injuries that seem to be a byproduct of his explosive playing style. This season alone, he has appeared on the injury report with back, hip flexor and ankle injuries but hasn't missed a game despite being held out or limited during practices.
One would think an athlete of Jones' caliber would spend his offseason time in the weight room chiseling his body for the rigors of the season. The 6-foot-3, 229-pound Jones insists he doesn't even lift weights unless required to in-season.
"I don't have an offseason workout regimen," Jones said. "I don't lift weights. I don't run. I don't do anything. I let my body rest. I just eat good. I actually eat great.
To be able to play at a high level, I feel like my turnaround is great, and I can recover quicker, and I think a big part of it has to do with the way I eat."
How strictly does Jones follow his diet? Just listen to his philosophy about seafood:
"I always make sure, with fish, that it's wild-caught and not farm-raised," said Jones, who has an agreement with assistant equipment manager Kenny Osuwah to help him track down the best seafood in cities on the road. "And I've gone organic for the last three, four years. I always tell my mom and my family, 'Listen, if it cost $6 extra to get the organic stuff, get it.' I'd rather save my health for $6.
"You've got to take care of yourself, man. There's a lot of stuff going around here nowadays with cancer and hormones and things like that they're putting in a lot of foods. You've got to be real careful and stay as healthy as possible."
Falcons quarterback Matt Ryancertainly notices the Gonzalez influence on Jones' diet.
"I don't see him eating Honey Buns anymore," Ryan said with a laugh. "He takes it pretty seriously. He's very healthy. After games, he sits next to me on the plane, and so I'll see him eating fish and stuff like that. He keeps it really clean. He's just a pro's pro.
"[Gonzalez] definitely influenced me, too. Having played with him, how passionate he was about nutrition and taking care of himself, but also how productive he was at the age that he was playing and how many years he had played [17]. I think all of us, as younger players at that time, were like, `Man, if he's doing this to play that long and stay at that level, it might be a pretty good idea.'"
Ryan, 32, has altered his diet some himself, cutting down on sugar. The reigning MVP hasn't missed a game since December 2009.
"Everything I do is trying to keep inflammation out of the body," Ryan said. "I don't eat much sugar or take in much sugar anymore, which is sad because it's pretty tasty."
Jones still gets his sweet fix now and then through island fruits-flavored Welch's fruit snacks. But usually his sugar comes naturally these days, thanks to his personal chef.
Listen to the chef
A chance meeting is what united Jones with Bryant "Chef Baul" Williams.
Williams, a self-taught chef, used to sell food inside various recording studios in Atlanta. He was there one day cooking for the rap group Migos, who are close friends of Jones and made the song "11 Birds" as a tribute.
Jones just happened to be in the studio the same day as Williams.
"He couldn't eat the food that I was cooking for Migos because it was pasta and stuff," Williams said of Jones. "But he bought lemonade and got my phone number. Two weeks later, I was playing Madden, and I got a DM on Twitter from Julio Jones, asking me to cook for him in the morning. Ever since then, we've been locked in."
Williams, who started the personal-chef life under rapper 2Chainz, typically cooks for Jones five days a week during the offseason and various evenings throughout the regular season.
"He pretty much gives me free reign to go out and do all the shopping because I kind of know his taste buds," Williams said. "I'll surprise him with something new now and then."
Williams buys only organic food from either Whole Foods or Publix. He cooks with coconut, olive or palm oil — imported and unrefined — and always incorporates fresh herbs, thyme, parsley and garlic in the meals.
Williams said his signature meal for Jones is lamb rib chops topped with an Asian glaze made out of honey. He said Jones is a big salad eater, only if topped with the cilantro-lime vinaigrette dressing Baul makes from scratch. A fruit salad typically consists of papayas, passion fruit, strawberries and blueberries — all Jones' favorites.
"He doesn't eat any flour, any sugar, I mean, nothing processed," Williams said of Jones. "I kind of pay attention to his calories. I make sure he gets more protein from his vegetables.
"He'll eat chicken every now and then, but not a lot. I'll make him like a shark omelet for breakfast or a good lobster tail and maybe jumbo shrimp paired with some broccoli or spinach for dinner. Everything we do is grilled."
Jones appreciates the bond established with Williams and how it has helped him maintain healthy eating habits.
"We just talk about whatever, foodwise, and whatever I want, let's do it," Jones said. "As far as the vegetables, he knows I can't mess with squash and mushrooms.
"I really don't count my calories, but I eat a lot of them, though. My body fat, it's low. I think when I came back it was like 4 or 6 percent, and I was like 232."
Jones' body fat percentage is right where he needs it to be — 4 to 7 percent — for a wide receiver, according to numbers typically distributed at the NFL combine. His sculpted build earned him recognition as of one of Sports Illustrated's 50 fittest male athletes.
"It means a lot because we've got a lot of guys who are fit in this game," Jones said. "This game can take a toll on you. What comes to mind when you talk about totally fit is longevity and going out there and imposing your will on people.
"You can look good. You can look like Tarzan and play like Jane. But if you're not going out there and playing how you look, then it's like, `Why you look like that?'"That's food for thought.
Source:-.espn.c