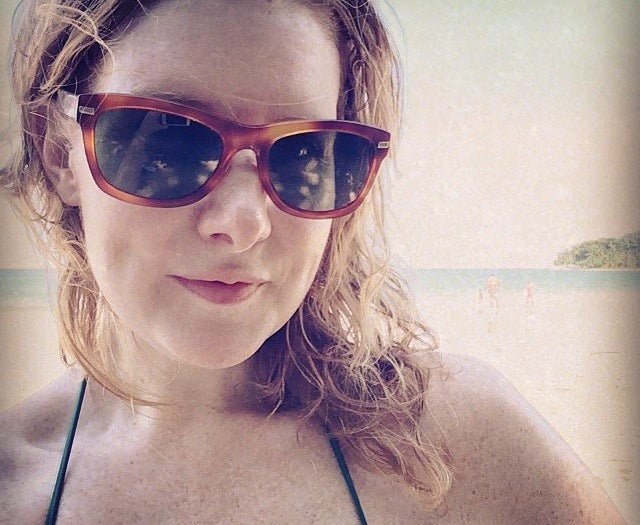 I undressed to my undergarments at my dermatologist's request. She slowly lifted each arm and examined their undersides. She checked behind my ears, across my stomach, near my bikini area and legs, around my ankles and even on the soles of my feet.
I'd decided to see her for a skin cancer screening as I approached my 30th birthday. She asked me not to wear polish in the future so she could also check my toenails ― no less than Bob Marley was taken down by cancer related to melanoma found on a toe.
For several years, I left our annual visits with good news. Until I noticed a clear, waxy growth at the edge of my hairline after a family beach trip. My mom, who always told me that I could "use a little color" and that "a little tan doesn't hurt," thought it was nothing, but my dermatologist knew it on sight.
"Looks like a basal cell."
Growing up in the rural South, I once relished the oven-like heat that gushed toward me when I opened our front door during the summer months. Most days were spent at my hometown's one and only pool, but even after withstanding scorching sunburns, my skin maintained its translucent white color, with only an increase in the number of freckles on my arms and, to my great dismay, not a hint of color on my legs.
Working on your tan was like teasing your bangs: You did it because everyone else did it, and you didn't think much about it. But I, the pale girl who was a bit of an oddball, vaguely knew tanning beds were bad for you and that I was never going to be a cool kid anyway. The comments came nearly every day from classmates who maintained brown legs year-round thanks to the abundance of tanning beds, which overflowed from private homes and coexisted alongside movies at combination tanning bed/video rental stores:
"Hey, Casper!" or "Nice legs, Casper!"
The sound of a clock striking 12, signaling the full force of peak noonday sun, appropriately sends me running for cover.
As summer approached one year and bikinis became de rigueur, the thought of going to the pool with my classmates became too much to bear, so I stopped going. I'd become almost comfortable with my pale outsider status when I heard a classmate announce the highly contested category of Best Tan during senior night.
I begrudgingly accepted the certificate honoring that sweet combo of Scotch-Irish ancestry and teenage bullying. But then, by my early 20s, I began to spend every summer weekend blissfully parked in a lounge chair by an apartment pool.
It's important to note here that I never skimped on sunblock. I took my applications seriously, always carrying my SPF 50 sunblock with me and religiously following the American Academy of Dermatology's recommendations to use a shot glass' worth on my body.
Turns out, thorough sunblock use in your 20s and hiding from the pool during your teens can't undo years of childhood sun damage. My fair skin, freckles, blue eyes, red hair, moles and family history of skin cancer meant I ticked nearly every box for skin cancer risk.
Basal cell carcinomas (abnormal cancerous growths) are the most common type of skin cancer nationwide. Basal ― and their less-common cousin, squamous ― cell carcinomas are the skin cancers you want to get if you have to get saddled with a skin cancer. They're slow-growing, generally treatable and almost never fatal.