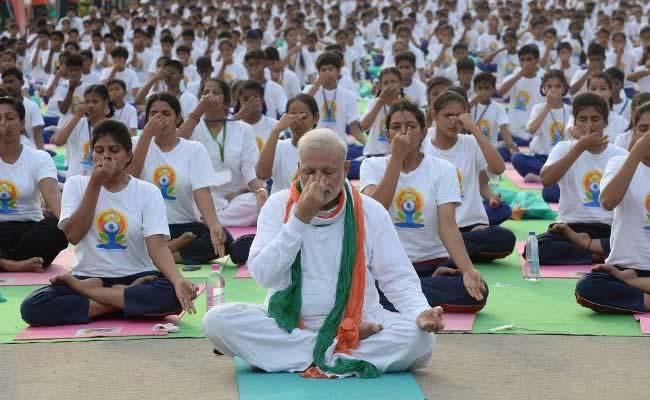 The country is all geared up to roll out yoga mats tomorrow to mark the fourth International Day of Yoga (IDY), with Prime Minister Narendra Modi scheduled to lead about 55,000 enthusiasts in performing asanas in Dehradun.
"About 5,000 events will be held across the country to mark International Day for Yoga (IDY)," a senior AYUSH ministry official said.
Ahead of the Yoga day, the prime minister posted a video on his Twitter handle giving a message that yoga is a "passport" to health assurance and not just a set of exercises that keeps the body fit.
"Yoga is the journey from 'me' to 'we'. It promises balance, calm, helps boost concentration and gives immense strength. As we approach the #4thYogaDay, I urge people around the world to make Yoga a part of their lives (sic)," PM Modi had tweeted.
Besides celebration is various districts and states which are being organised by state government in coordination with NGOs, the union ministers will go to different venues, inside the national capital and outside  to lead yoga events.
In New Delhi, eight events have been planned with the main event being held in Rajpath.
The New Delhi Municipal Council (NDMC) will be organising events at  Lodhi Garden, Nehru Park, Talkatora Garden and Rajpath.
Besides, around 50,000 yoga enthusiasts including women personnel from various Central Armed Police Forces such as BSF, CRPF, CISF will participate in a yoga event at Red Fort organised by Brahma Kumaris.
Yoga functions will also take place in Patanjali Yoga Samiti in Dwarka and Art of Living in Rohini.
Several ministries, like the Ministry of AYUSH has launched mobile app 'Yoga Locator' giving details of yoga activities in a particular surrounding area, while the  Ministry of Women and Child Development has launched "#YogaFor9to5", a contest to generate awareness on the benefits of yoga at workplace for women.
Besides, celebrations will take place in more than 150 countries, with Indian missions coordinating activities in landmark places, the ministry official said.
On Sunday, PM Modi had shared through his Twitter handle photographs to various countries on practise sessions  in the run-up to Yoga Day.
In India, the biggest gathering will be at Dehraudun's Forest Research Institure where the Prime Minister and about 55,000 others will stretch and bend in various yogic postures.
Elaborate security arrangements have been put in place with commandos and paramilitary forces deployed to ensure no untoward incidents take place.
In Delhi, eight events have been planned in the national capital with the main event being held in Connaught Place.
The centrepiece of the first IDY celebration on June 21, 2015 was New Delhi's  Rajpath, with the  event making it to the Guinness World Records with 35,985 participants performing asanas at one venue and 84 nationalities being part of it.
Last year, the main function was at Lucknow.
Source:-ndtv