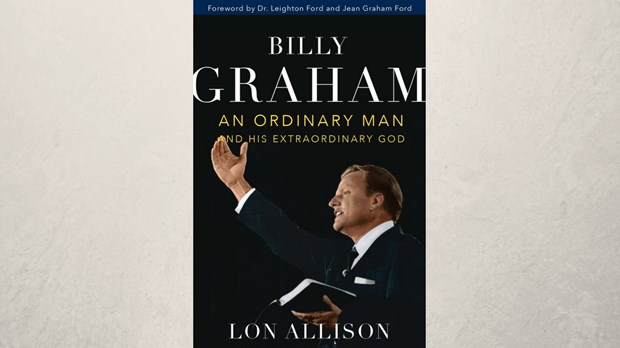 Ed: Not too long ago you were diagnosed with an aggressive liver cancer and have been receiving treatment. How has this impacted your faith and the way you view God?
Lon: I really didn't know how my faith would be impacted by the news of a terminal cancer. My wife Marie, our children, and I had never faced something like this. I can now say five months into the journey that my faith is stronger than before my diagnosis about 90% of the time.
I have clung to two truths to sustain me. First is the sovereignty of God: "The Lord has established his throne in heaven. His Kingdom rules over all" (Ps. 103:19). The second great truth is his love for me and my family: "And I pray that you being rooted and established in love, may have power…to grasp how wide and long and high and deep is the love of Christ, and to know this love that surpasses knowledge" (Eph. 3:17-19).
The sovereignty of God means he has authority over this situation. He has allowed this cancer to strike me. He can cure it in a nanosecond, or allow it to grow within me. He is in charge, and I deeply desire he be glorified through it.
The love of God reminds me of his goodness lavished upon me and mine with his love. He is not a tyrant God, nor an absent God. His love is always present and extravagant. Those twin doctrines sustain me. Marie and I feel we are in a bubble of grace. The news about my body is not good, but our hearts and spirits are for the most part buoyant.
The prayers of God's people are a rich faith building support. I don't always pray well about it, but they do. I also want to add that the promises of God mean more to me than ever. My journal is loaded with his promises that I might be a promise-driven man, not a problem-driven one.
Ed: What would you say to those who are struggling with a serious illness and who are feeling far from God right now?
Lon: I would say that I'm sorry for their afflictions and that I wish I could pray them all away. I would ask God to do just that! If he didn't, I'd pray and ask the sovereign, loving Lord to manifest his presence to them that they may know his peace in the midst of pain. I'd ask them to let the scriptures of hope be spiritual food to sustain them in their sorrows.
Ed: You recently completed a book on the life of Billy Graham called An Ordinary Man and His Extraordinary God. Tell me why you wrote it and what you learned about Graham that perhaps you never knew.
Lon: A publisher approached me about the book in late summer and asked if I could write it in four months (by December 31), so it could be released for Mr. Graham's 100th birthday in November 2018. I balked at the invitation because I knew Mr. Graham disliked people writing biographies of his life. He was always concerned that people would make too much of him and not realize it was all Jesus Christ.
Further, I'm not an historian. I am a pastor and evangelist and a low-shelf professor. But the publisher wanted the book to come from the heart of a pastor-evangelist and be written not for the academy or even for the clergy as much as for regular people, and especially those who don't know Christ.
That really got me excited. Why? Because that's the very group Mr. Graham sought to reach his whole life. I asked the publishers if I could tell the story of Billy in order to tell the better story of Jesus. They said yes! How could I say no?
I really believe this is an evangelistic book. I present the gospel more than five times throughout the book. I tell Christians to read it and then give it to their non-Christian friends and family. I've never had as much good response to a book as this one. It's a bit overwhelming. I hear from both professors and truck drivers who thank me for this short but clear story of Mr. Graham and his God.
There were countless things I learned about him that I didn't previously know. I absorbed the biographies written of him as early as the 1960s and as recent as 2015. A real highlight was learning more about the depth of his prayer and devotional life. It was his walk with Jesus that sustained and prepared him to walk millions of others to Jesus.
I loved learning more about him from my readings and from my friends who knew him far better than me. Honestly, the research and writing were God's gift to me after I learned I had this cancer. About half the book was written after I was diagnosed.
Ed: Graham was such a gifted evangelist. Sometimes we don't think our own testimony and witness is as important since we aren't leading thousands to Christ. Why does each person matter when it comes to evangelism?
Lon: Each believer matters because without each of us, all of the lost billions won't hear. Even Jesus said it was better that he go away so that the Spirit might come and empower us all.
Together we can reach the world. Billy could only be in one place at a time. And even he knew he was a small cog in God's salvation plan. He always told leaders in any city he was going to preach in that 75% of the evangelism would be done by them and the churches before he arrived and spoke in their stadiums. He was an ordinary man empowered and anointed by an extraordinary God. But he was only one.
source:-christianitytoday.c