The Galaxy S7 edge outsold its smaller sibling, the S7. Now leaked schematics show us that the next gen phones will have even bigger screen, will we see the Galaxy S8 Plus outsell the smaller Galaxy S8?
Our preliminary polling says no – if our math is right, the smaller S8 will put an S7 edge-size screen into an S7-size body. And it won 35% of votes, leading the S8 Plus (6.3" screen in an S7 edge body).
Of course, there are other considerations that might swing the results. The current consensus is that the Galaxy S8 Plus will have a dual camera, while the S8 will not. However, the Galaxy S8 will have stereo speakers while case designs for the Plus model show only one speaker grill.
It's important to note that the S8 Plus wasn't second in the polls, it was the hypothetical 5.1" Galaxy S8. Samsung hasn't made a Galaxy S mini since the S5 generation (the Galaxy A phones took over), but can you imagine how compact a 5.1" S8 will be with these new super slim bezels?
Finally, 16% of voters say they will hold out for the Galaxy Note8 – if bigger is better then it's clear that the Note8 will be the best, right?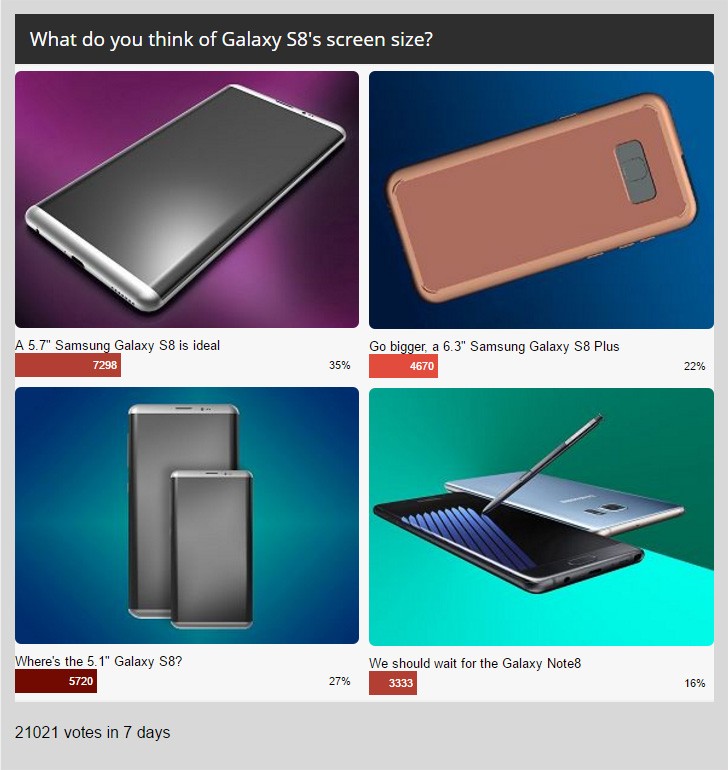 source"cnbc"