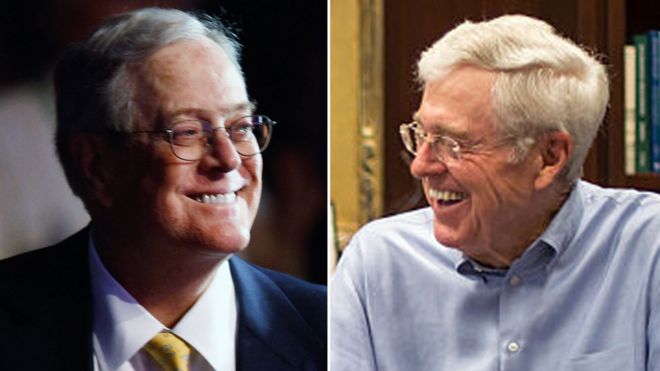 US President Donald Trump has launched a stinging attack on Republican mega-donors Charles and David Koch, labelling them a "total joke".
His tweets come after a spokesman for the brothers' network accused the White House of stoking divisiveness.
Mr Trump said on Tuesday he has "beaten them [the Kochs] at every turn".
On Monday, the Koch network caused a stir by refusing to back a Republican candidate in North Dakota, which voted overwhelmingly for Mr Trump.
Americans For Prosperity, the political and policy arm of the Koch network, declined to support congressman Kevin Cramer's bid to unseat politically vulnerable Democratic Senator Heidi Heitkamp.
The organisation cited Mr Cramer's support for a mammoth congressional spending bill this year and his failure to challenge White House policy on trade and global duties.
'Blood and money': The story of the Koch brothers
At a gathering of the Koch-backed Seminar Network over the weekend in Colorado Springs, its co-chairman Brian Hooks lamented the "tremendous lack of leadership" in Washington.
He said the "divisiveness of this White House is causing long-term damage".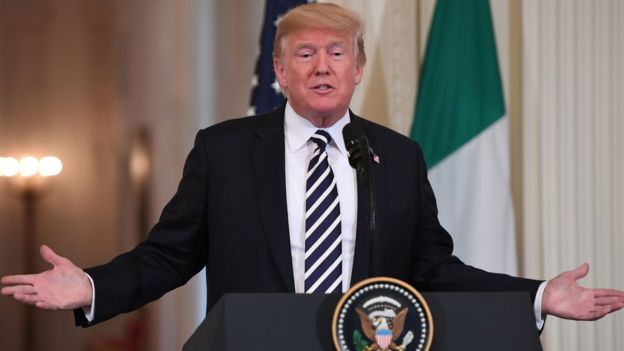 Charles Koch himself stopped short of blaming the president for the partisan rancour.
"We've had divisiveness long before Trump became president and we'll have it long after he's no longer president," the billionaire industrialist told reporters. "I'm into hating the sin, not the sinner."
Donors at the conference indicated they would spend as much as $400m (£304m) on the US mid-term elections this November.
Relations have been fraying between the Republican president and the Kochs recently. Last month they launched a multi-million dollar campaign against his trade tariffs.
Three political groups backed by the brothers said they would use advertising, lobbying and grassroots campaigns to push the benefits of free trade.
The Kochs refused to endorse Mr Trump's presidential campaign in 2016, but after he won they found common ground, especially on tax cuts.
Who are the Koch brothers?
Their company, Koch Industries, is the second largest privately owned business in the US and has interests ranging from pipelines to paper towels.
According to Forbes Magazine, the men are worth about $60bn (£45bn) each, and are tied for eighth richest man in the US.
According to the Koch Industries website, they have more than 120,000 employees between all their businesses and subsidiaries.
They have previously put money into groups denying climate change and attacking unions and workers' rights.
But they have also pushed for criminal justice reform and made large donations to the American Civil Liberties Union.
Last month, the company was told that David Koch, 78, was stepping down because of his deteriorating health.
source:-BBC