With scheduling, reminders, and other features, these apps make crossing tasks off a list even more satisfying.
The humble to-do list is the foundation of every productivity plan. Its a natural instinct to unburden our brains by itemizing our most pressing tasks, and few things feel as satisfying as crossing a task off the list.

Though a simple pen and paper is still an effective way to keep track of the things you need to do, a good to-do app will actually remind you to do them, allow you to easily manage multiple lists, and sync across your devices so you always have your list at hand. Here are a few of our favorites.
Google Keep
Google Keep often gets overlooked in Googles productivity offerings. Thats a shame, because this free Android and iOS apps capabilities rival those of Evernote and Microsoft OneNote. One of its many tricks is the ability to track tasks and assure you get them done.
Any Google Keep note can be converted into a checklist so you can tick off items as you complete them. If you keep multiple lists, say Work and Personal, you can manage these with labels and color coding. Most helpful of all is you can use Keeps time- and location-based reminders to prod you to execute tasks in certain settings.
Wunderlist
Purchased by Microsoft last year, Wunderlist continues to be one of the most powerful cross-platform to-do apps available. It makes it easy to manage multiple lists and share them with others.
One of Wunderlists strengths is its streamlined interface. Adding and checking off items is intuitive, as is setting due dates and reminders, moving items to different lists, and assigning to-dos to others. Not surprisingly, Microsoft has also added integration with Outlook.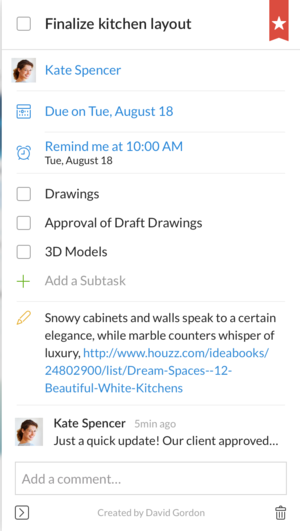 If you upgrade the free version to Wunderlist Pro ($5/month, $49/year), you can share and collaborate on tasks with colleagues, friends, and family. Best of all, Wunderlist works can sync across Windows, Mac, iOS, Android, Kindle Fire, and the web.
Tick Tick
Newcomer Tick Tick is proving itself a competitor to more entrenched apps thanks to its simple interface and wealth of features. You can set daily, weekly, and monthly recurring tasks; drag-and-drop items to move or reorder them; set deadlines and reminders; share lists; and more.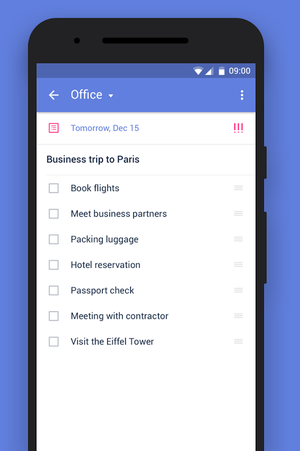 Upgrade to the pro version ($2/month, $20/year), and you get a calendar view of all your tasks, plus revision history, and unlimited lists, tasks, and sub-tasks.
Youll also be able to access your to-do lists from virtually anywhere: Tick Tick is available for Windows, Mac, Chrome OS, iOS, Android, Apple Watch, Android Wear, Chrome and Firefox browsers, and the web.
Clear
With its bold colors and simple gestures, Clear ($5 for iOS, $10 for Mac) remains a strong choice for Apple users. The award-winning app pares down features to keep the focus on tracking and completing tasks.
Clear shows only the names of your lists with a number denoting how many items it contains. Shadings of color are used to give you a heat-map sense of each list for at-a-glance prioritizing, and reminders can be added to tasks. To emphasize simplicity, functions are performed through a system of pull-downs, pinches, and swipes, making it easy to get through your lists quicklywhich is the ultimate goal of any to-do list.
source"cnbc"