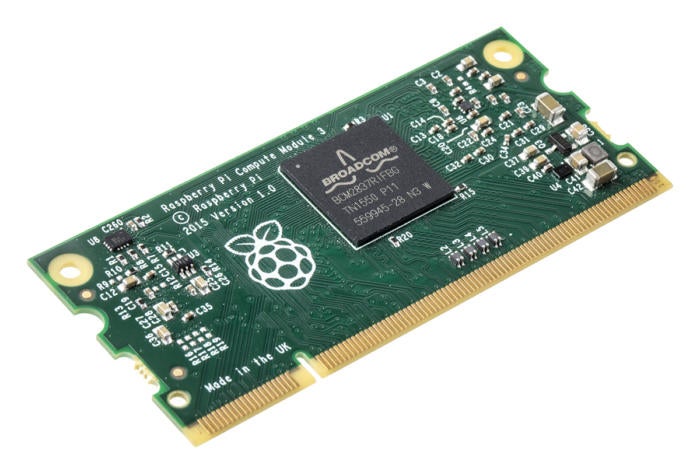 The new Raspberry Pi single-board computer is smaller and cheaper than the last, but its makers aren't expecting the same rush of buyers that previous models have seen.
The Raspberry Pi Compute Module 3 will be more of a "slow burn," than last year's Raspberry Pi 3, its creator Eben Upton predicted.
That's because it's designed not for school and home use but for industrial applications. To make use of it, buyers will first need to design a product with a slot on the circuit board to accommodate it and that, he said, will take time.
The Compute Module 3 has the same four-core, 64-bit Broadcom BCM2837 processor and 1GB of RAM as the credit-card-sized Raspberry Pi 3, but is less than half the size and missing the ethernet, USB, SD Card and display sockets of its larger cousin. It also has no Wi-Fi.
The signals for the missing ports all appear on an edge connector that fits into a SODIMM socket, typically used for laptop memory upgrades, allowing industrial product designers to choose which ports they want to expose on their product, and which functions they want to build in or do without.
That means it can be incorporated into all manner of robots, industrial machinery, and other devices.
"We've seen some nice designs for it," Upton said. "Probably the ones we are most excited about are NEC's large-format displays, which have the option to put a Compute Module inside to add intelligence to what was previously a passive display."
NEC revealed those smart signage systems in October 2016, long before the Compute Module 3 went on sale on Jan. 16, 2017, but since the new module is pin-compatible with the original Compute Module launched in 2014, upgrading will be a snap.
"We're expecting a lot of our Compute Module business to move to Compute Module 3," Upton said. He expects that to translate into sales of hundreds of thousands of the modules in the first year, a far cry from the millions of Raspberry Pi 3s that sold in its first year.
For Robert Maycroft, Global Product Manager at Raspberry Pi distributor RS Components, the Compute Module 3 heralds a new trend in industrial computing.
The printed circuit boards used in factory equipment have not traditionally required the same design skills and number of layers as are found on microprocessor boards such as the Compute Module 3.
"The number of customers who will be able to do the complexity of design from the ground up is narrowing, and modular will become the norm," said Maycroft.
Upton echoed that: "With a modular design you can isolate a lot of the high technology PCB design into a relatively small area," he said.
The Compute Module 3 is 10 to 12 times more powerful than its predecessor—but at peak performance, it draws a lot more power.
"If you really push the processors hard you can pull 4 watts," Upton said. Buyers looking for that kind of performance will need to pay more attention to thermal design, he warned. "If you don't do that right, the temperature runs up and we pull the down the clock speed to manage that."
This is not a module for building battery-powered always-on devices: Even with the multimedia core turned off and the ARM processor cores asleep to save energy, power consumption will still be around 100mW, Upton said.
The Compute Module 3 is available from RS Components and Allied Electronics. It costs around US$30, or $25 for the Lite version with no on-board flash memory. (That can be connected via the flash memory pin-outs on the edge-connector, a new addition in the latest model.) A standard Raspberry Pi 3 costs $35.
RS will also be manufacturing the Compute Module 3. While it ships with an empty flash memory chip as standard, leaving buyers to load their own operating system, Maycroft said RS could preprogram it on demand. Such a service typically involves a large order, a fee, or both.
To begin using the Compute Module 3, buyers will need a circuit board with a SODIMM socket to hold the module and provide power and other connections. The Raspberry Pi Foundation is offering its own board design, the Compute Module IO Board, under an open license to make it easier for others to incorporate the module into their product designs. It has been revised to accommodate the additional flash memory IO lines of the Compute Module 3
source"cnbc"