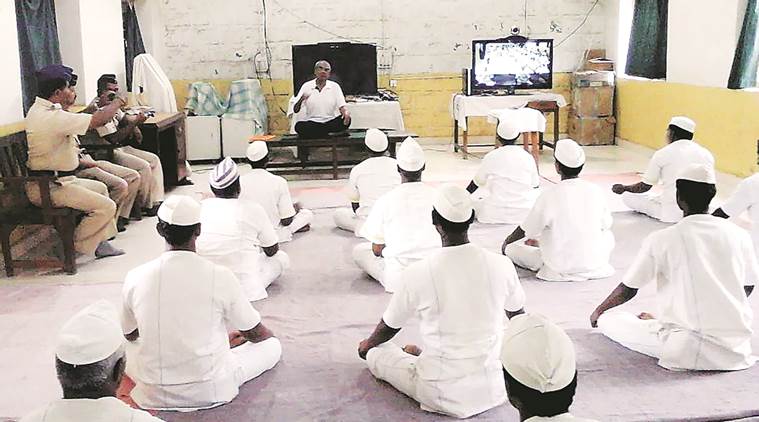 A yoga session in progress inside the Yerawada Central Prison. (Source: Express photo)
The prison inmates in the state who excel in yoga will be eligible for a remission by as much as three months in their sentence.
The yoga sessions at the Yerawada jail began this year from June 21, which was observed as the International Yoga Day. Several inmates of the prison have already been trained as yoga instructor, who are conducting yoga sessions in their respective barracks. However, a comprehensive yoga programme was launched by the State Prison Department on Saturday.
Speaking to The Indian Express over phone, Additional Director General Prison Bhushankumar Upadhyay, responsible for launching the comprehensive yoga programme at the Yerawada Central Prison, said, "Yoga is a complete exercise that rejuvenates one from within. It has been proven that yoga brings positive thoughts and helps bring change. It is a process that connects body to the soul and undoubtedly increases efficiency and concentration. In the coming days, the jails across the state will launch their own programmes."
"At the end of a particular time period, we would be conducting an exam of the inmates, and those who perform well in these exams, will be eligible for three months of remission. At present, we are running this programme only for convicts but also want the undertrials to join," he said.
Upadhyay, however, clarified that these remissions will only be given after other conditions for remission are satisfied.
In Yerawada prison, the programme is being conducted in collaboration with a Lonavala-based organisation, Kaivalyadham. Prison department officials said that the inmates who have been lodged separately either because of the nature of the crime or for security reasons — like Bollywood actor Sanjay Dutt— are not part of the programme.
In the first phase, over 500 inmates from Yerawada Central Prison, will be trained in yoga and the sessions will comprise asanas, dhyaan and pranayaam.
["source-indianexpress"]