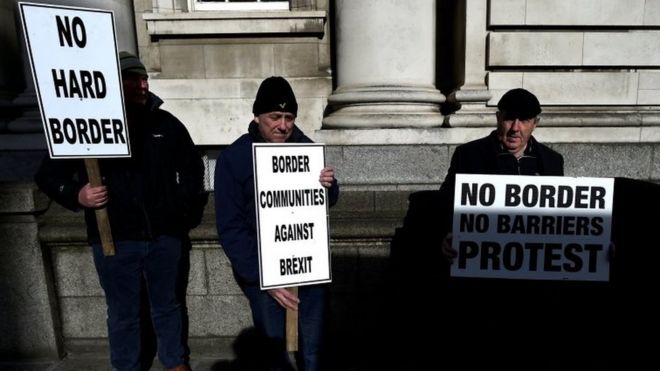 The Irish Republic's EU commissioner has said Dublin will "play tough to the end" over its threat to veto Brexit talks moving on to discuss trade.
The European Union has said "sufficient progress" has to be made on the Irish border before negotiations on the UK and EU's future relationship can begin.
Phil Hogan told the Observer staying in the customs union would avoid there being a hard border on the island.
The DUP said Northern Ireland and the rest of the UK must not be different.
Arlene Foster, the leader of the Democratic Unionist Party, which is in a confidence-and-supply arrangement with the Conservative government, said she would not support "any suggestion that Northern Ireland, unlike the rest of the UK, will have to mirror European regulations".
Downing Street has said the whole of the UK will leave both the customs union and the single market when it leaves the EU.
DUP hits out at Irish government's Brexit stance
Brexit: All you need to know
Six things to watch if Brexit puzzles you
The EU has given Prime Minister Theresa May until 4 December to come up with further proposals on issues including the border, the Brexit divorce bill and citizens' rights, if European leaders are to back moving on to trade talks.
But Mr Hogan, the EU's agriculture commissioner, accused some in the British government of having what he called a "blind faith" about securing a comprehensive free trade deal after Brexit.
He said it was a "very simple fact" that "if the UK or Northern Ireland remained in the EU customs union, or better still the single market, there would be no border issue".
In these circumstances regulations either side of the border would remain the same, and so a near invisible border would be possible.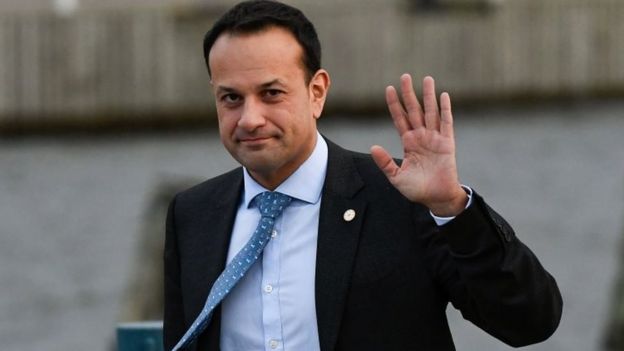 The Irish government has always insisted there must not be a hard border between the Republic and Northern Ireland, with Taoiseach Leo Varadkar saying he must have written assurance from the UK before Brexit talks can move on.
Irish Foreign Minister Simon Coveney has said the UK's desire for no hard-border on the island of Ireland was "aspirational".
Report suggests 'low friction' Brexit border solution
UK approach to Brexit 'chaotic' – leaked Irish report
There could be no movement to phase two "on the basis of aspiration", he said.
But in her speech in Florence, this September, Mrs May restated that both the UK and EU will not accept any physical infrastructure at the border.
Suggestions for alternate arrangements have included a new partnership that would "align" customs approaches between the UK and the EU, resulting in "no customs border at all between the UK and Ireland".
source:-BBC