If you're looking for a high-end Samsung tablet at this point you're pretty much stuck with the Galaxy Tab S2 from the summer of 2015. Rumor has it that will change this quarter and by the looks of it we are indeed headed that way. Wi-Fi and Bluetooth certifications acquired, the Galaxy Tab S3 has now visited GFXBench revealing key specs.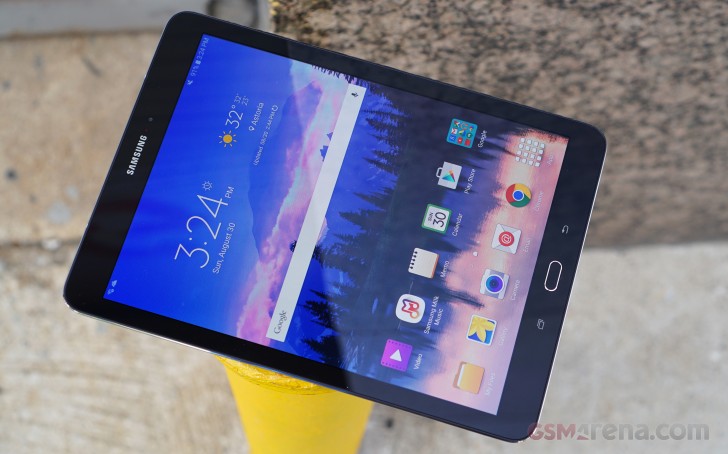 Samsung Galaxy Tab S2 9.7
The benchmark reports display diagonal of 9.6″, while the previous-gen tablet was 9.7″, but benchmarks have been known to get the details wrong on occasion. Either way, that 0.1″ is hardly a deal-breaker. Resolution remains 2,048×1,536px, so a 4:3 ratio – gone are the days of 16:9 Samsung slates.
One of the more interesting bits about this Galaxy Tab S3 (internal designation SM-T820/825) is the chipset – GFXBench says Snapdragon 820, which is even better than the Exynos 7420 that was mentioned the other day in the same sentence as the Tab S3. The E7420 is, after all, close to 2 years old, while the S820 is a whole year newer.
The specsheet goes on to list 4GB of RAM (in line with said rumor) and the 24GB in the storage field means that the Android 7.0 build on the tablet takes up about 8GB of the 32GB memory. There's a 12.8MP camera on the back of the Tab S3 for those that don't see 10″ tablet photography as a no-no, and a 5MP shooter on the front for more reasonable use cases.
Since the Galaxy S8 is not going to make it to MWC this year, it could very well be the Galaxy Tab S3 that ends up the star of the show.
source"cnbc"