If you blow up your graphics card, we'll send you a new one. But here's everything you need to not blow it up, for free.

That's the gist of EVGA's response to overheating concerns over its GTX 10-series graphics with the ACX 3.0 cooler. The issue reared its head when Tom's Hardware Germany tested the EVGA GTX 1080 FTW and found that the lack of a cooling solution for the card's voltage regulator module area prompted those VRMs to reach incredibly high temperatures—up to 106.8 degrees Celsius—when pushed to their limits with Furmark, a stress-test utility that hammers graphics cards much harder than actual games.

That was accompanied by overheating complaints by numerous users on forums who say they weren't using Furmark, as well as scary pictures and YouTube videos like this one:
EVGA says its cards run just fine under normal gaming scenarios, and anecdotally, I've been heavily using an EVGA GTX 1080 FTW for months without issue (or additional overclocking). But, the company says, "the thermal temperature of the PWM and memory, in extreme circumstances, was marginally within spec and needed to be addressed."
The impact on you at home: All EVGA graphics cards sold from this point forward will have a fix in place by default, and while the vast majority of gamers shouldn't run into issues, EVGA's offering several solutions to make things right for their existing customers, as well as fully honoring all warranties. The default fix for this issue will make the cards louder, however, and you have to wonder why the company skimped on a robust cooling solution for the VRMs in the first place as these are higher-end cards.
We've reached out to EVGA for clarification on how many users officially reported overheating issues with their ACX 3.0-equipped graphics cards. Update: EVGA's Jacob Freeman responded with the following:
"We are investigating these reports. I can say it is extremely rare and does not seem to be related to temperature or overheating, but we are investigating the root cause still."
Chilling out
The issue stems from the design of EVGA's custom ACX 3.0 cooler, and 22 GTX 10-series graphics card models from EVGA are affected. EVGA's attacking the issue with a twofold response.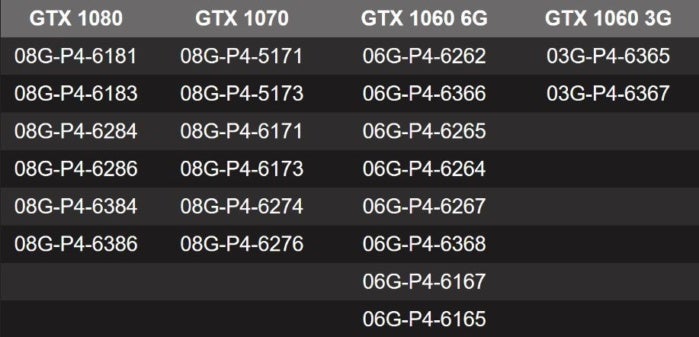 First, a Video BIOS update for affected models will be pushed out "in the next few days," increasing default fan speeds to help drive temperatures lower. "Users can download it and update their cards directly," EVGA says. "This update resolves the potential thermal issues that have been reported, and ensures the card maintains safe operating temperatures." Every EVGA graphics card shipped after November 1 will run the modified VBIOS by default.
The solution essentially brute-forces more air across the VRM area rather than actually fixing the core design issue. Until it rolls out, you could jerry-rig a similar solution on your own by creating custom fan profiles in overclocking tools like MSI Afterburner or EVGA's own PrecisionXOC.
If that isn't enough to calm your nerves, the company's also providing free, optional thermal pads to anyone who asks for some via EVGA's website. You'll need to register an account to get one, however, and EVGA flat-out says the pads are "not required." They may be the preferred option for tinker-friendly PC gamers, however, as we'll discuss later.
The company will honor its full warranty on these cards, and if you don't feel comfortable installing an updated VBIOS yourself, EVGA will provide cross-ship RMA support—meaning the company will send you a new card, and you ship your current card back in the same box. You'll need to put up the "collateral" price of the card in the interim, but EVGA will refund that in full when it receives your original graphics card.
Fix results
EVGA provided GamersNexus with a test build of the updated VBIOS, which dropped VRM temperatures by 14 degrees Celsius when tested with Furmark, from 109 degrees to 95 degrees—"well within reasonable operating range," as GamersNexus puts it. The site also received EVGA's optional thermal pads and reports that they drop VRM temperatures all the way down to roughly 85 degrees even without the VBIOS update installed, or a chilly 80 degrees with both the thermal pads and the VBIOS in place.
The updated VBIOS update made the GTX 1080 FTW's fans noticeably louder, GamersNexus reports, so you may want to opt for the free thermal pad option instead if you don't like the sound of that (har har) and feel comfortable tearing apart your card. Here are EVGA's instructions for applying the pads. If you want the pads but find the process daunting, I suggest calling up EVGA to see if you can arrange an RMA for a card with the thermal pads pre-applied.
Fingers crossed that those thermal pads will start to be applied by default to new graphics cards coming out of EVGA's factories in the future.
source"cnbc"