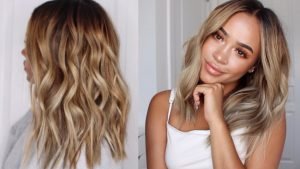 Beach waves are a favorite hairstyle that we've seen recently on every noteworthy Hollywood head, Blake Lively, Lauren Conrad, and Chrissy Teigen just to name a few. Beach waves are evocative of summer, sand, and surf. They are fun, easy to maintain, and easy to accomplish if you know the right tricks.
Recreating the beachy waves of summer without ocean water is a lot less difficult than it sounds. The key to surf-side strands? Just make sure that your curls don't look too perfect you want to look like you've been swimming in the ocean all day. So messy is good.
Even though summer has been over for quite some time, thanks to salt sprays, tanning products, bronzers etc. you can still maintain that beachy vibe in the winter too! Keep reading to learn our best tips for getting those beachy waves of summer that you so long for.
1. Use a Curling Iron
Beach waves tend to start at about the midshafts of the hair and move downward. To achieve this look, one simple hack is to use a normal curling wand. It's a quick style to add to your morning routine and you can do pull it off in the time it takes to make a cup of coffee.
Simply section your hair using ponytails about halfway up. Then, using the curling wand, make loose curls with all the hair that is below the ponytails. This trick is simple and takes about 10 minutes to pull off.
PROTIP: When you're working with heat tools, there is a big potential of damage to your hair. Most heat tools get up to 450 degrees Fahrenheit. And if it's hot enough to cook an egg, it's hot enough to cook your hair. Make sure your blowout kit includes a good heat protectant spray. These sprays create a thermal barrier so that when heat is applied, the spray cooks off, rather than frying your hair.
2. Air Dry
If low maintenance is more your speed, you can achieve beachy waves by simply letting your hair air dry without any blowdryer assistance. With a few strategically placed buns (two at the nape of your neck!), you can air dry your way to that summery look in as little time as it takes for your hair to dry. Just twist, pin, and wait it out. Simple.
Another way to achieve this is to put your hair up into buns while it is still damp and go to sleep. When you wake up in the morning, you will have lovely beachy waves overnight with zero extra effort. This is one of our favorite hacks and for good reason. It is simple, easy, and effortless to achieve beachy, blissful waves by just letting your hair dry.
3. Twist and Iron
If you already love your flat iron as much as we love ours, here's a tip that will make you love it even more. All you need for this hair hack is a few minutes, a salt spray, and straightening iron. Simply spray your hair with salt spray, twist the hair on each side of the head into a long twist, and flat iron to instantly create lovely beach waves in less than a minute.
Conclusion
There you have it. Simple and easy. These hacks are a great way to get that bombshell look without taking a trip all the way to the beach. They are quick to pull off, easy to implement, and a breeze to maintain.
What are your favorite low maintenance hairstyles for summer, or any other season? Tell us your method and share your best tips & tricks in the comment section below!