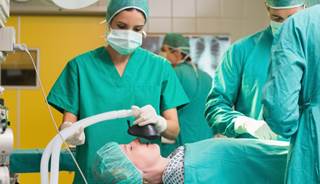 Medication errors or adverse drug events occur in 1 in 2 surgeries.
A medication error and/or adverse drug reaction occurs in approximately 1 in 2 surgeries and in 1 in 20 observed drug administrations, according to findings published in Anesthesiology.
The study, which is the first to investigate the incidence of medication errors and adverse drug events during the perioperative period, found that more than one-third of medication errors resulted in adverse drug events or harm to patients.
To conduct this observational study, 4 anesthesia-trained researchers observed 225 anesthesia providers during 227 randomly selected operations at Massachusetts General Hospital (MGH). The researchers observed the providers from the time they took responsibility for a patient in the preoperative area until the patient arrived in the recovery room or intensive care unit. The investigators also reviewed chart data to identify additional events and to confirm events that they saw were indeed errors.
"Given that MGH is a national leader in patient safety and had already implemented approaches to improve safety in the operating room, perioperative medication error rates are probably at least as high at many other hospitals," said Karen C. Nanji, MD, MPH, of the MGH Department of Anesthesia, Critical Care, & Pain Medicine.
The researchers identified at least one medication error or adverse drug event in 124 of 277 observed operations. During the 277 operations, there were 3,671 medication administrations, 193 (5.3%) of which involved a medication error and/or an adverse drug reaction. Of these 193 events, 153 (79.3%) included a medical error and 91 (47.2%) included adverse drug reactions. A total of 153 (79.3%) of these errors were deemed preventable.
While 32 (20.9%) had little potential for harm, 51 (33.3%) of the errors led to an adverse drug event, and another 70 (45.8%) of the errors had the potential for harm. The researchers also measured the severity of the errors: 99 (64.7%) were serious, 51 (33.35) were significant, and 3 (2.0%) were life-threatening.
"Prior to our study, the literature on perioperative medication error rates was sparse and consisted largely of self-reported data, which we know under-represents true error rates," said Dr. Nanji. "Now that we have a better idea of the actual rate and causes of the most common errors, we can focus in developing solutions to address the problems."
["source-clinicaladvisor"]