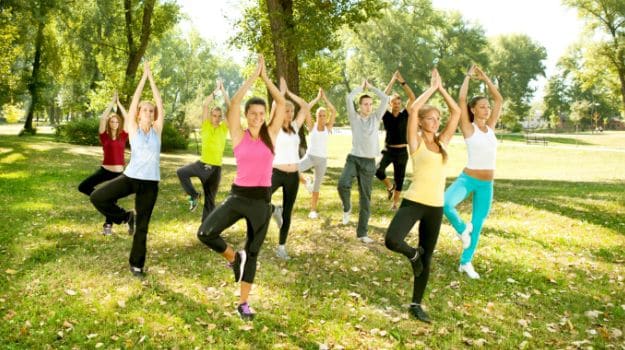 Preparations for the soon approaching International Day of Yoga are on in full swing globally with PM Modi chairing a high-level meeting to oversee the arrangements and more than 100 cities in the United States gearing up to participate.
(Prime Minister Narendra Modi to Perform Yoga at a Public Event)
Several ethnic groups, yoga studios and corporates are among the nearly 70 organisations that have joined hands with a prominent Indian-American community outfit that is organising events across 100 US cities to mark the first International Day of Yoga this month. Overseas Volunteers for Better India (OVBI) will be organising Yogathon events across 100 US cities and more than 70 groups have joined the campaign, the organisation said in a statement.
(From the Kundalini School of Yoga: An Exercise that Boosts Immunity, Helps Cut Belly Fat)
Citing the 'Yoga Journal' marketing research in 2012, it said an estimated 20.4 million Americans practice yoga. Plans are underway to commemorate the first international Yoga Day on June 21 on a grand scale in India and across the world after the UN General Assembly adopted a resolution last year to mark the day as proposed by Prime Minister Narendra Modi. The Indian Embassy in Washington will also be partnering with OVBI to promote International Day of Yoga.
(The Best Yoga Exercises for Pregnant Women)
OVBI has been hosting several online outreach activities to garner support and spread awareness about Yoga and the international day. Several ethnic organisations, yoga studios and corporates have joined OVBI Yogathon to celebrate the International Day of Yoga. Among them are the Nepalese Student Association at Kent State University, India Association of North Texas, Sewa International, Hindu Swayamsevak Sangh, Art of Living, Patanjali Yog Peeth, the Isha Foundation, leading yoga apparel company Lululemon Athletica and natural foods supermarkets chain Whole Foods.
(More Than 100 Cities in United States Will Host a 'Yogathon' on International Yoga Day)
Pranav Desai, founder of Voice of Specially Abled People, announced support to OVBI Yogathon and said his organisation would invite specially abled people to join the Yogathon. In Dallas, an estimated 1,500 yoga enthusiasts are planning to be part of the Yogathon event, OVBI said.
["source-food.ndtv"]