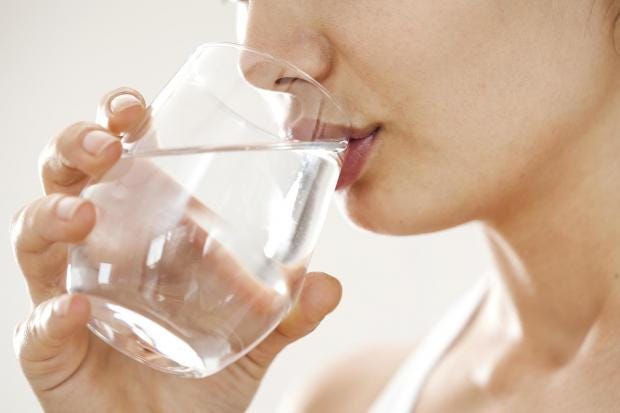 A worrying new diet craze is sweeping social media under the hashtag #waterfast – but don't try it, it's potentially extremely dangerous.
The controversial "water fasting" diet does what it says on the tin, which, as you can imagine, doesn't include a whole lot in terms of what you're actually allowed to eat.
In fact, the idea is that you don't eat anything at all – not even a sliver of kale.
The only thing on the menu is (you guessed it) water. Intermittent fasting has been in vogue for quite some time now, but this new diet takes things to a whole new level to the point where it borders on starvation.
New York-based real estate broker Elan Kels had tried every other diet under the sun before he came across "water fasting".
"The idea is: you could do it as long as you have fat on your body, and that's what gives you energy," he told the New York Post.
He intended to consume nothing but water for 47 days.
Five days in, he explained that he felt surprisingly energised and focused.
However, by day 28 he didn't even have the energy to get out of bed in the morning and decided to give up.
While it's unclear as to where this unusual diet originated from, or for how long one is supposed to do it for, it's already racked up a substantial social media following, with more than 17,600 posts under the #waterfasts on Instagram.
However, it is not something that experts are advocating, with clinical social worker Joanne Labiner telling the New York Post that the diet is actually a form of disordered eating.
"There's lots that's bad about this 'diet,'" says dietician Jo Travers.
"For a start there are pretty much no vitamins and minerals," the author of The Low-Fad Diet told The Independent.
"Most vitamins are water soluble and can't be stored so you need them regularly throughout the day. Then there is no protein, which means the body has to break down muscle in order to recycle the amino acids in to hormones and enzymes to stay alive.
"You are basically starving yourself and that comes with huge health risks."
Travers added that the main issue with the diet is that it's being referred to as a 'cleanse' on social media.
"This language is so misleading as 'cleanse' or 'detox' are completely meaningless terms," she said.
"They have a positive feel to them and have a health halo but actually it's a complete myth.
"A healthy balanced diet is called a healthy balanced diet because it is healthy and balanced. This is neither."
Harley Street nutritionist and eating disorder specialist Rhiannon Lambert agrees that the "water fasting" diet is fundamentally synonymous with starvation.
"Given such an unhealthy relationship with food, starvation dieters are likely to end up gaining weight in the long run," she explained.
"This is because when you deny the body the calories it needs, your metabolism slows in an effort to conserve caloric fuel and may be disturbed despite regaining normal eating habits," she told The Independent.
"Ultimately, these kind of diets will lead to severe nutritional deficiencies and possibly a loss of skeletal muscle," she added.
["Source-independent"]