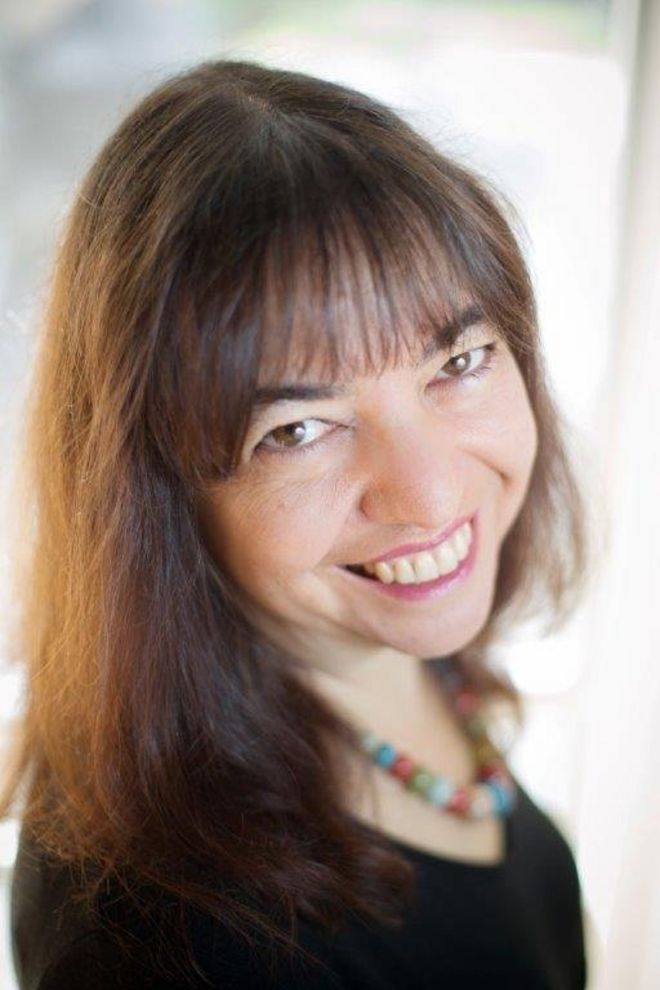 In December my younger sister Sarah died of lung cancer, two years after first being diagnosed.
She had led an admirably healthy life, didn't drink and had never smoked.
The disease seemed to come out of nowhere, shattering the life of a brilliant and much loved mum, wife and writer.
Sarah had been working on a historical novel for the past eight years and her death meant that she missed its publication by a few days.
Before her illness I knew very little about lung cancer and probably shared the common view that it was a smoker's disease.
I had no idea how many healthy people who had never smoked got it, and how in the UK it kills more people than breast, prostate and pancreatic cancer combined.
Targeted therapies
Sarah's cancer was caused by a non-inherited genetic mutation.
She was treated with a number of the relatively new targeted drugs available.
What was so frustrating was that when they worked they could shrink a tumour the size of an orange to nothing.
But Sarah was particularly unlucky.
With some people these drugs work well for quite some time, but the nature of her cancer meant that she burned through a number of them very quickly.
When the drug stops working, the tumours spring back almost immediately to the size they were before – or worse.
Like my sister, Joanna Marshall is a young mother to two children, has never smoked, and yet has stage four lung cancer because of a non-inherited fault in her genes.
She has also been treated with targeted drug therapies.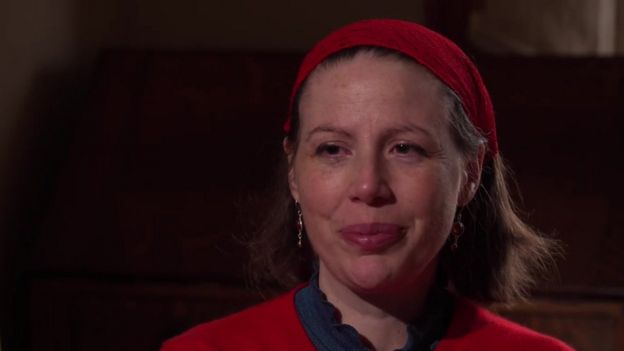 "They provide a very effective stay of execution. So for me, for example, I have been on a targeted therapy for about a year which meant that I could live essentially a normal life," she said.
"I was very active. I could breathe properly but they don't last for ever. The problem is that cancer tends to be one step ahead.
"My husband – his life has completely changed and it's not what I wanted for him; but you know, if we get through this, we'll be so strong," she added.
'A disaster'
According to the leading medical charity Cancer Research UK (CRUK), 98 people die of lung cancer in the UK each day – making it the country's biggest cancer killer.
In around 14% of cases, those who get the disease have never smoked.
Despite this, there is no screening programme for the disease, something which the Roy Castle Lung Cancer Foundation, the UK's only charity exclusively dedicated to lung cancer, is campaigning for.
Cancer Research says there is no national programme in part because it is not clear that screening would save lives, the tests have risks and they can be expensive.
Plus, there is a concern screening could cause over-diagnosis – meaning some people may have treatment they do not need.
Dr David Gilligan, a consultant oncologist at Addenbrookes and Papworth hospitals in Cambridge, says late diagnosis is a disaster for patients.
"It's a massive problem because these people who are diagnosed with lung cancer and have never smoked are really quite angry that they are assumed to have smoked and they have self-inflicted this cancer… when clearly they haven't," he said.
"Because of the way that the disease behaves, and that these people are not expected to be diagnosed with lung cancer, they are not high risk, they are usually diagnosed at a later stage and therefore treatment can often not be curative, which is a complete and utter disaster for them."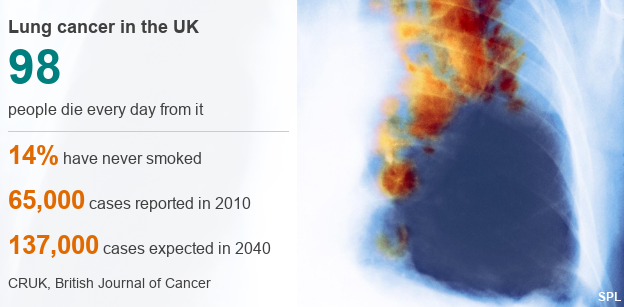 Most lung cancers are diagnosed at stage four, which means that the tumours have spread.
Sufferers often experience no symptoms and many of them are first diagnosed when they present at Accident and Emergency departments.
The average prognosis is 200 days but if caught early, there is up to a 73% increased chance of surviving over five years.
The British Journal of Cancer predicts that lung cancer cases in the UK will double from 65,000 in 2010 to 137,000 in 2040 and that women will be worst affected.
The number of women with lung cancer is expected to almost quadruple within the next 30 years, from around 26,000 in 2010 to about 95,000 in 2040.
In contrast, the figures for men are predicted to increase by 8%, from 39,000 to 42,000 over the same period.
However, partly due to the negative associations of smoking, lung cancer remains the poor relation in the cancer family.
It receives a fraction of the research funding of other cancers.
Just £708 is spent on research per lung cancer death, compared with £3,570 for breast cancer, £7,640 for leukaemia and £10,116 for testicular cancer.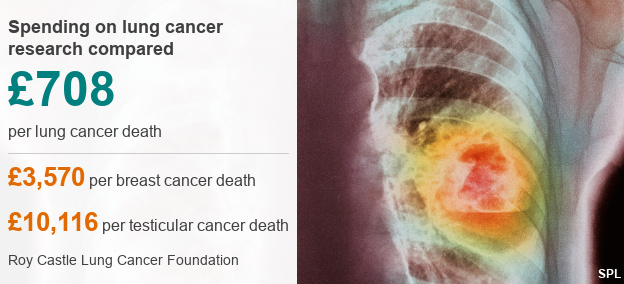 The entertainer and host of BBC TV's "Record Breakers" Roy Castle, also a lifelong non-smoker, died of lung cancer in 1994.
Paula Chadwick, chief executive of the Roy Castle Lung Cancer Foundation, paints a stark picture of why research and treatment is so poorly funded.
She argues that it is almost a "Cinderella" disease, because of the stigma that comes with the idea that it might be self-inflicted.
"A lot of patients believe that it is their fault as well," she says.
"But it doesn't matter if you are a smoker, non-smoker, or ex-smoker, if you have lungs you can get lung cancer, it does not discriminate.
"Sadly we don't have that army of advocates or those ex-patients who can help us raise the profile because it does have poor survival rates, she adds.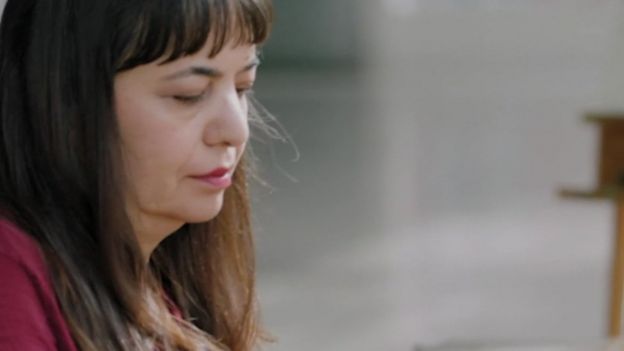 A cure or effective long-term drug therapy for lung cancer in both smokers and non-smokers remains a way off.
There will be many more cases like that of my sister Sarah before this disease, which can strike down healthy young people indiscriminately, is tackled and beaten.
Watch Clive Coleman's full report on the Six O'Clock News on BBC One this evening.
source:-BBc